---
Send all comments to:CRATERMAZE@hotmail.com. Please don't tell me I should use my Riviera for a planter

---

(of the Riviera, you sicko!)
---
Did you wonder what I had before the Riv??

Do you know what I gave up the Riv for?????

My Riviera has
on the odometer.

---
As you may know by my homepage, I drive a 1986 Buick Riviera T-type. One of the more overlooked models built by GM, I think now it has performance value, especially since the release of the new 3800 Series II Supercharged built in my hometown, Flint, Mi. Future upgrades to bring my Riviera up to "world class" include:
16 inch alloy wheels w/ P215-50 R 16 tires
Combination fog and driving lights
New inside rear-view mirror, includes compass and auto-dimming feature
3800 Series II Supercharged V-6
Oak or similar plywood down console and around tape-deck.
Fix the damn antenna
Power Sliding Sunroof (Yeah, I know they came from the factory with them, but mine doesn't have one)
Do something about the leather interior (It's all cracked and old looking)
New paint (Original Black or Black Cherry)
New doors and front bumper (It's had it's share of fender-benders, none of which are by me)
Minor other improvements (expected on a car that has 113,000 miles on it)

---
"The T-Type [Riviera], in fact, is perhaps the best-handling Buick in history-though that is somewhat like saying Kurt Waldheim was the best SS officer."-Brock Yates
---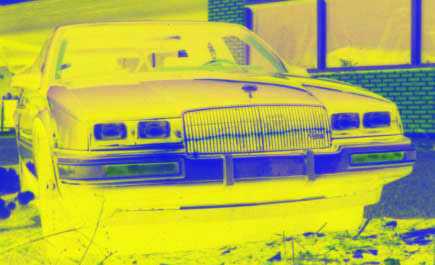 Riviera Specs
from Car and Driver, Sept. 1986
---
Vehicle type: front-engine, front wheel drive, 5 passenger, 2-door sedan


Engine:
Type: V-6, iron block and heads
Bore x stroke: 3.80 x 3.40 in.
Displacement: 231 cu in. (3.8 Litre)
Compression Ratio: 8.5:1
Engine-control system: Buick electronic with port fuel injection
Valve gear: pushrods, hydraulic lifters
Power (SAE net): 140 bhp @ 4400 r.p.m.
Torque (SAE net): 200 lb-ft @ 2000 r.p.m.


Drivetrain:
Transmission: 4 speed auto. with lockup torque converter (mine doesn't work-k)
Final-drive ratio: 2.84:1

Dimensions:
Wheelbase: 108.0 in.
Track F/R: 59.9/59.9 in.
Width: 71.7 in.
Height: 53.5 in.
Curb Weight: 3360 lb.


Suspension:
Front: ind, strut located by a control arm, coil springs, anti-roll bar
Rear: ind, strut located by a control arm, transverse leaf spring, anti-roll bar


Steering:
Rack and Pinion, power assisted


Brakes:
Four wheel disc, vacuum power assist


0-60: 9.9 sec
Standing 1/4 mile: 17.2 sec. @ 77 m.p.h.
Top Speed: 110 m.p.h.
Roadholding, 300 ft. skidpad: 0.81 g


Fuel Economy (E.P.A.):
City: 19 m.p.g.
Highway: 30 m.p.g.


Built in Hamtramck, Mi

---
New (1996) Riviera test from Car and Driver, Oct. 1996. This is the (possible) donor for my Supercharged 3800.

0-60: 7.0 sec.
Standing 1/4 mile: 15.3 sec. (Notice how big the new Riv is, too)
Top Speed: 109 m.p.h.
E.P.A. mileage (city): 17 (That's actually what I'm getting now in my Riv)
Roadholding, 300 ft. skidpad: 0.78g (Notice the 1986 handles better, possibly due to the much more aggressive T (Touring) type suspension)


3800 Series II Supercharged:
Sequential Port Fuel Injection
Horsepower: 240 @ 5200 rpm
Torque (lb-ft): 280 @ 3600 rpm
Mileage (City-Hwy.) 18-27

---
Options my Riviera has:
---
T-type package
-includes-
* Black rocker mouldings
* Gray protective side mouldings
* Paint-gray lower accent
* "Power Comfort" 6-way seats
* Leather wrapped "sport" steering wheel
* Gran Touring suspension
* 15 inch aluminum wheels with 215/60 R 15 Good-Year Eagle GT's
* Leather interior

Other options:
*Electric rear window defogger
*Twilight Sentinel headlamp control
*Automatic electric door locks
*Electric trunk pull-down
*Electric mirror, heated (left)
*Lighted visor vanity mirror (passenger)
*Delco GM/Bose Music System

Standard Features that are usually options:
*Air Conditioning (wish mine worked)
*Power antenna
*Door Locks
*GRAPHIC CONTROL CENTER*
Possibly this car's most misunderstood feature, but one of it's most distinctive, at least.
-touch sensitive screen includes diagnostic displays, climate control, trip monitor, sound system controls and retained accessory power feature
"There, mounted dead center, like a window on the future, is the magical, touch sensitive CRT screen, a.k.a. Graphic Control Center-the interface of an all-seeing, all-knowing computer that is meant to transform a trip to the 7-Eleven into a space odyssey."-Brock Yates
I, personally, find it easy to use, particullarly at night, but it is easy to hit the wrong button and wind up lost on the thing.
*Digital Instrumentation

---
(Almost a) Bloody Mess Behind the Wheel:
I was driving down Stadium Drive in Kalamazoo, Mi, and I was getting into the left turn lane, and the left turn light was turning red. I hit the brakes and the car slowed normally, when BAM! the pedal goes right to the floor! I lost all brakes and coasted through the red light into the oncoming left-turn lane. Luckily, no one was in front of me, or in the on-coming left turn lane, or the results could have been fatal for my Riviera and me. When the pedal went to the floor, all I can remember thinking is "Whoops, that's expensive," then "I hope I hit something expensive like a Caddy." After the initial shock, I drove (as best I could) to the parking lot at Western Michigan University, and let my Riviera rest in it's own fluid for the night. The next morning I called Century Buick, and I'm very satisfied with the work they did. I even got to ride in a tow-truck AND a new LeSabre!

---
Buick Links
Riviera Links:

Chris's Riviera Page

Riviera page that makes mine look like crap. But it is a lot of fun.

Other Buick links:
Buick Motor Division
General Motors
1997 1/2 Buick Regal
Buick 1960's-1970's musclecar page
Buick Grand Nationals and T types
Buick Club of America
Carprices.com
---
Thanks for checking out my Riviera page, though I'll probably work somemore on it later.
Back to my home page.

---
Neither Buick Motor Divisoin nor General Motors are responsible for this page. I make no money from it, it is just a tribute to the car I drive almost daily. I salute the many people who have had input on my car, among the few are the workers in Hamtramck, Buick engineering, and my father, Kenneth Ferguson who has loaned me countless time and money to keep the Riv roadworthy. Thanks.